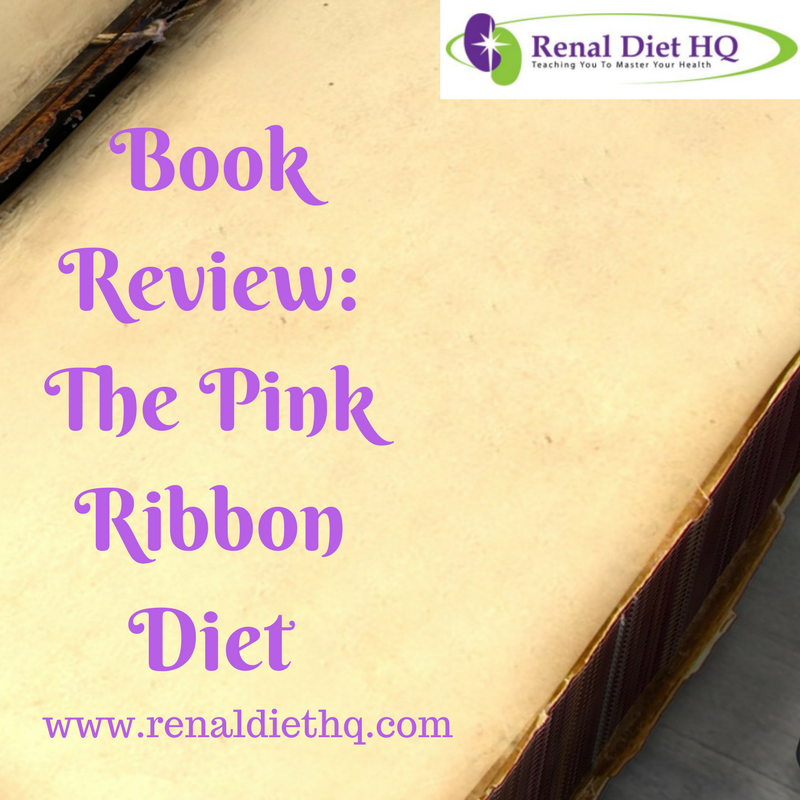 The Pink Ribbon Diet: A Revolutionary New Weight Loss Plan to Lower Your Breast Cancer Risk
"The Pink Ribbon Diet." It's a non‑fiction book in the health and diet section, written by Mary Flynn who's a registered dietitian, and Nancy Verde Barr who works as a chef and did a lot of recipes in the book. And it was copyrighted as of this year, 2010.
1.  Information on the book – overview.
The Author developed a diet for women that had breast cancer and had gone through chemotherapy and gained weight. Patients found that they had such a difficulty losing weight on any other diet, so the RD had worked to develop and do some research to find out what items were the issues with the current diets that they were on, and then, how to give them a good diet that would help them to lose weight.  So she felt it was very important to make sure that these women were able to lose the weight and not continue to hold on to the weight that they may have gained during the treatment.
She found that certain nutrients can improve your health. So looking at certain items, she wanted to make sure that there were more of in the diet, such as antioxidants and more Omega‑3's. Some of the foods that women were eating were correlated to an increased risk of cancer. And she wanted to make sure that she highlighted those and remove them from the diet, so that they could continue to eat healthy, have a good life, and prevent future occurrences of breast cancer, or prevent it in their family altogether.
2.  Three words to describe the book
If I had to use three words to describe this book, I would say this book is easy. It is easy to read. It is easy to follow. It is a very clear, so easy and clear and targeted.
3.  Talk about the authors' opinion and do some response to that.
It's clear how you should go about following this diet. She gives you very specific information on a menu. She gives recommendations. She gives a sample‑a‑week menu so you can start with that. And it is targeted. Her audience is breast cancer, women with breast cancer, women at risk with breast cancer. So some of the things that she doesn't talk about are not related to…
She doesn't talk about health things because she is really focused on how to prevent breast cancer. And some of those things are not necessarily… Don't necessarily work together. So what is your priority? Your priority is to reduce your risk for breast cancer and be healthy, lose a little weight. This is a good book for you.
4.  Explore the issues that are brought up by the book
She talked about the foods to eliminate list.  But I think the food to eliminate list is much  easier for women to follow than men. And granted not many men get breast cancer. Some do but looking at it, it is a little easier for women. And if that's her targeted audience, then that is who will benefit the most from it and it's a good idea to go ahead and follow that list.
But I thought she should have talked a little bit about water, just how much fluid a person should take in. I think it can be beneficial to weight loss to increase your intake of water. And she probably did tell that to her patients. Another thing I thought would be very valuable in her book would have been to give us some of her common questions, like a frequently asked question section of the book.
5.  Finally, other concerns or topics that may be related to this book.
And it would have been great to see a frequently asked question portion in this book so you could read the questions and go, "Oh, yeah. I wonder about that. I thought… I wonder if that would work." She didn't talk about salt intake and I did a little research. I looked into that and it should be limited. We know that we eat too much salt in this country. I think salt is important in the American diet. Looking forward to future health, it's probably important for these women to know if they should be adding salt to their food or not and how much. My final question related to her comments or her book was that I wanted to know what about artificial sweeteners and I looked that up in the internet as well.
I wanted to go through and explore some of the issues that she brought up in the book and she started with the simple list of food to eliminate. I think she worked really hard to not make that list too large. It is very limited, very concise. This food, this food, this food… and she also provides evidence to show you why you should not eat that food.
So if you're wondering, "What is red meat, why can't I have red meat? Why can't I have hydrogenated fats?" She tells you why. She gives you good explanation and that I felt like that was very well substantiated. She gives a list of the big three categories or the foods that you should eat. The foods that are important to eat every day.
Number one was extra virgin olive oil. She said it leads to fullness and you should eat this amount, and how each of her recipes incorporates it is important to the user. She talks about starches and she recommends whole grains and she goes through the list of how to cook those and what sort of items you can use them in, and how to make some ahead, like I said before, starches, the whole grains.
Then she talked about vegetables either raw, frozen, canned, whatever you need to do to get them in your diet. I felt like that was very well stated.  I know the fiber that is in whole grain and vegetables will definitely provide a feeling of fullness between meals.
You should have a little bit of fruit. She has about 12 ounces per week of chicken, turkey, fish and only six ounces per month of red meat, and she prefers that you didn't eat any. It was kind of funny because, as a dietitian, I agree with one of her statements that, "If we would only worry as much about getting our vegetables as we do about getting our protein…" Because most people's response to not eating that much meat is, "How am I going to get all the protein I need?"
I think we probably should be more concerned about how we are all getting our vegetable servings, because they are so helpful to our risk factor to many diseases, not just cancer.  She talks about the cancer cures and cancer research. It is very important. But it is also prevention and that is what this book is targeting out, helping women prevent future recurrence of breast cancer and also to help them feel better after their cancer is gone.